OK, so I've been a fan of auto racing ever since I can remember. Since 1992, I've been a fan of NASCAR over most other forms of auto racing... mostly, because it's better televised than the others.

Early on, I latched onto Rusty Wallace as my favorite Cup Series driver... mostly because everybody else seemed to be band-wagoneers and followed Dale Earnhardt and Jeff Gordon. I've also spent many weekend afternoons/evenings watching the races and not realizing how much time was wasting as a result. For a few seasons, I actually didn't miss any of the races. My wife built a great collection of Rusty Wallace memorabilia for me, which I still have, but it mostly just collects dust now.

Since Rusty retired in 2004, and I was not a fan of Kurt Busch (who replaced Rusty in the #2 car), I threw my support behind Tony Stewart. He drove the #20 Home Depot car for Joe Gibbs at the time. I started collecting a few things, but then Tony decided quit Joe Gibbs Racing and start his own team(s). Stewart Haas Racing never really had any "solidly dedicated" iconic sponsors (like Home Depot, or Miller Lite) so it was more about the car number (14). I honestly think I only have a couple of #14 Tony Stewart items, but have kind of lost track of them. Which brings me to now: December 2017, and Tony Stewart has retired from racing, effective the end of the 2016 season.

Crap! Now what?

I guess I'll have to wait until Daytona to see who I follow now. I could always get behind the #2 car again since I kinda like Keslowski... but I'll probably go with the #4 car of Kevin Harvick, who was one of Tony's teammates and still drives for SHR. We'll just hafta see, I guess.

Below is some of the things I pulled off my previous NASCAR page, and decided to keep here. Here's a link to my old page, preserved for posterity's sake HERE


---
I was hoping to have some cool pictures from the Texas Motor Speedway on April 1st, 2001. My Buddy Ron Stevenson invited me to come along to what was to be my first LIVE NASCAR Race!!! Woo-Hoo!!! I was also hoping some of those pictures of Rusty crossing the finish line in first place, and maybe a few of he and I together in the pits signing my T-shirt, or maybe even one of us in Victory Lane after he invited me to celebrate the win with him. Yeah, right...I know - you were expecting me to have a couple of blurry "in the pits" shots and the backs of a bunch of sunburned heads...but I let you down even more than that. After all the walking we did from the South Forty Tent City - 2.5 miles to the infield gate, couple trips around the infield, back out to the souvenir vendors, then back around to our seat (dang near half a mile away from the gate)...we blew off going all the way back to the car to get the cooler, seat pads, and yes - the camera. Did I mention this was a good-sized track?

This shot is from the Texas Motor Speedway website, and although we were on the 5th row from the wall, this might give a fairly good idea of where we were sitting.

The following year, March 31st, 2002 - I wasn't sure if I was going to be able to afford to go, since I had just switched companies right when the tickets went on sale in Nov. 2001. So I didn't purchase the tickets early enough. I found out about a 3 weeks before the race that I was going to Dallas for A+ certification training the week following the race, so I got on e-Bay and bought some front-straight tickets (section 101, row 29) which were awesome seats! The only problem is that it was raining like a b!tch the whole way up, and never let up while we were there. So, we paid $400 to sit in the rain for 3 hours, after 7 hours of driving and getting a parking spot in the saturated grass - which the wife's Z-24 got stuck as well. I also went to my class the next day to find the instructor suggesting that I should just go to the race, since the class was going to be mostly review for me - but my wife had already driven back to San Angelo by then - DAMMIT!!! Oh well...

I haven't been back to a race since... maybe we'll go again the future.

But I did get a new, official hat from the souvenir trailer, as well as some #2 decals to make my truck go faster, a 'Thriller from Miller' T-shirt, and a 2001 1/24th Die-Cast #2 Taurus to add to the collection.


---
Here's some pictures of my Rusty collection... which was really only just getting started when he retired. I'm also built a 2002 #2 Miller Lite Taurus computer... yes, computer... that was my web server for awhile. Pics are below.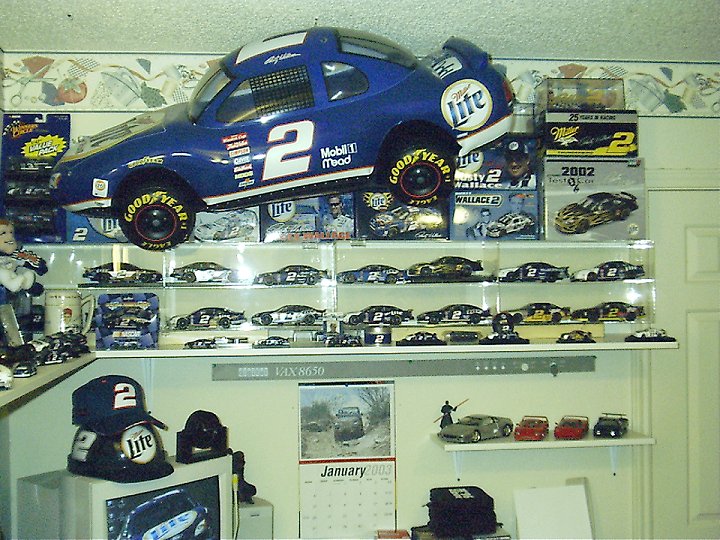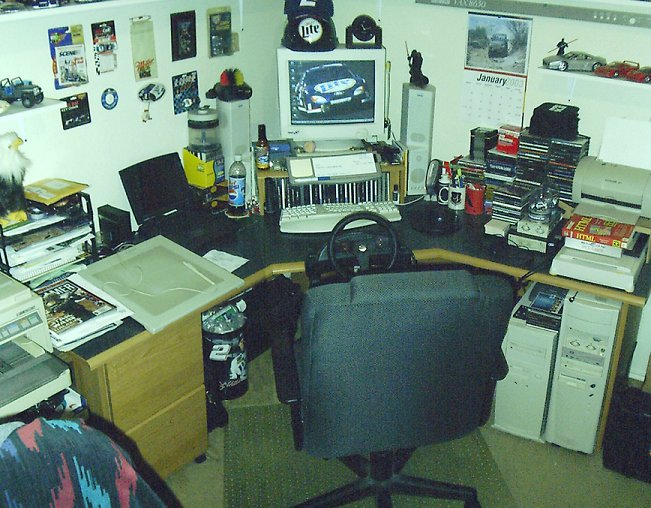 And you can even see that I've got Rusty on the computer desktop as well.

---
Here's my Rusty Wallace Miller Lite #2 Ford Taurus NASCAR Race Car computer.

It's a completely custom chassis designed and hand-built by me. I used a small sheet of aluminum and some 1/10th scale remote control car parts to make the machine happen. I'm working on 2004 Dodge Intrepid body, but it's fine with the Taurus body for now. Here's a couple pictures of it, and to see more of it and how it was built, click on the pictures or the link below.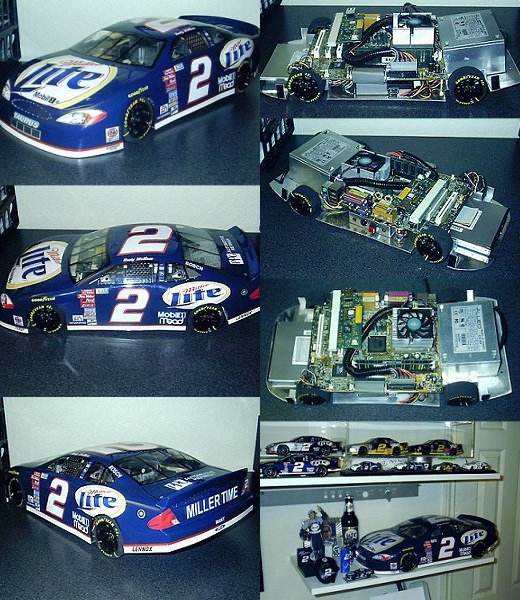 Linkage: Building Rusty

---
I'll add more stuff later as I figure out what's relevant. For now though - this is all I got.