| | | |
| --- | --- | --- |
| | Utah Jazz Stuff | |
Hi... My name is Eric... And I am a Utah Jazz fan.


I became a Jazz fan by virtue of growing up in Salt Lake City, Utah. The Jazz being the only professional team in town of any sport, naturally I had to jump on the bandwagon and become a fan. It wasn't until I attended my first game in the Salt Palace with my Boy Scout troop, 617, that I realized what it was to be a Jazz fan.

Yes, I was a Boy Scout...just keep reading.

After that, I started collecting various Utah Jazz paraphernalia (which was damn hard to do) and faced the reality that the rest of the people in my family were not fans. This made it hard to catch the games on the tube, but the radio was my friend. 'Hot Rod Hundley' called the games back then on KSL-AM 1160, and that was my only link to the game - I didn't realize just how good I had it then.

After graduating high school, I lost track of the Jazz when I joined the Air Force, and had a hard time getting back into the groove of being a fan. For years, I talked smack about how good the Jazz were without the benefit of actually knowing how they were doing - I looked pretty stupid some times, but for the most part, people agreed with me and my claims...either I was really lucky or the Jazz are really that good. FYI - I ain't that lucky.

After I returned from Izmir, Turkey, I still hadn't really caught up with what was going on with the Jazz since I was stationed in San Angelo, Texas... and this is 'Spurs' country. Only after my wife and I made a trip to Utah in 1993 to move my Mom to live with us in Texas, and actually found a Utah Jazz T-Shirt (warned the wife I'd throw a fit if I couldn't buy it), have I been seriously trying to follow the team. Being in Texas doesn't make things any easier, either. The only link to the Jazz I have are the occasional broadcastings of games, word of mouth from friends who know I'm a Jazz fan, and the links listed on this page.

In October 1999, I had the pleasure of visiting Utah once again - this time there was no moving of anybody involved...Woo-Hoo! Anyway, my wife and I tripped around Salt Lake City going here and there with my best friends from high school who were still there, and we actually made it to South Towne Mall. This is where I found the Fanzz Shop, and drastically increased my Utah Jazz stuff collection. I found shot glasses, a clock, a banner, some cool shirts and even a mousepad. It was a good thing we didn't have much time to stay there because I would've blown our entire vacation budget in that store within an hour.

We tried to visit the Delta Center, but the building was still under repairs from that freak tornado in September before our visit. The security guards were really nice despite not being able to let us in, and I honestly think they regretted that they weren't able to help us. Thanks guys, maybe next time. One of these years I'll get into that building.

April 15th 2000 - my wife and I attended a Jazz game against the San Antonio Spurs. We showed up a bit late to the game, since San Antonio has a VERY screwed up transit system through town, but once we got there - it ROCKED! The Spurs eventually won...well, they led by more than 10 the whole time we were there. The game was quite a blast despite the loss.

On this page, you won't find a bunch of stats and pictures that I'll have to constantly update, rather, the links listed below should be able to allow you to find any information about the Jazz that you'd like to know.


---
Utah Jazz Game Schedule

Utah Jazz Team Roster

Utah Jazz Player's Stats
---
Official & Commercial Sites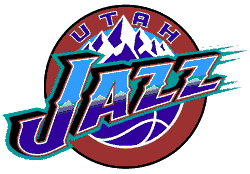 Official Utah Jazz Website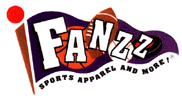 AM 1320 KFAN - Utah Jazz Radio

Sporting News' Utah Jazz page

Sportsline's Utah Jazz page
---
Fan Links
Yehuda Levy's Utah Jazz/John Stockton Page
This background was swiped from the original 'Official Utah Jazz Homepage' because it was so cool.