Jeep Stuff click here for my "Jeep Tech/Projects" page
---
Bought: April 1995
Sold: NEVER!

---


Engine: 258 (4.2L) I-6
Tranny: T-176 4 speed Manual
T-Case: DANA 300
Front Axle: Dana 30 Widetrac w/4.10s
Rear Axle: AMC 20 w/4.10s, Moser 1-piece axles, welded tubes, & Detroit
Tires: 33x15.50 Interco TSX Super Swampers
Wheels: 15x10 American Racing Black Modular
Lift: 4" Explorer Pro-Comp Suspension
Superwinch Locking Hubs

Special Features:
MC2100 Carb & Mr. Gasket adapter
Ford TFI Ignition
Understanding Wife
Hard Top, Soft Top, Bikini Top
Full Size Spare
Swing-Out Fenders
Custom Center Console
Cobra 40 Channel/Weather CB
KC 150 watt Pencil Beam Off Road Lights

Big Damn Stereo:
JVC Digifine AM/FM/Cass Stereo
GLC 400x4 channel Amp
Optimus 150x2 channel Amp
Optimus 6 channel Crossover
Realistic Ground Loop Isolator
4 Jensen Coaxials
2 Rockford Fosgate Punch 8" Subs

Future Plans:
Nerf Bars
Custom front bumper w/stinger
Underhood Air System
ARB or Ox for the front - can't decide
AMC 360 V8
AMC Torque-Commander 727 Automatic w/B&M Mega-Shifter
Dual Optima Batteries
Howell Injection System (Dreaming)
1980 Jeep CJ-7


---
I picked up the Jeep from the Auto Skills Development Center at Goodfellow Air Force Base, Texas, in March 1995 while my wife was stationed in Korea. I was afraid when I called her and told her that I had ditched my Blazer and bought a Jeep, that she would be upset. But quite to the contrary, she was almost ecstatic, since she really hated my Blazer - another story.

It was quite a deal getting the Jeep. The manager of the Auto Hobby Shop had asked me what I thought the Jeep was worth. He had bought it from a student that had no idea what he had. I told him I thought $3500 was a fair price, and he asked me if I thought it would sell quickly if he asked $1400. I reached for my back pocket and asked him if he would take a check. The rest is history - these kind of deals don't come along often.

I've got some pictures of what it looked like when I bought it that I'll put up soon.

Since I've had the Jeep, I've learned a lot about mechanics, and a little bit about life as well. I've learned how to repair a lot of broken stuff on Jeeps, like wheel bearings, brakes, hubs, driveshafts, steering columns, carburetors, water pumps, transfer cases, transmissions (total rebuild), and other various little Jeep things.

I've also learned that you do not go to a tire shop to have a suspension lift kit installed. Especially not one located in San Angelo, Texas. 'Nuff said on that - you'll hafta E-mail me for the whole story on that.

And the most important thing I've learned about Jeeps, is while living in San Angelo, Texas...the best place to go for Jeep parts is through the post office.
---
Here's a couple of shots of the Jeep when I first got it back from having the lift and Swampers installed.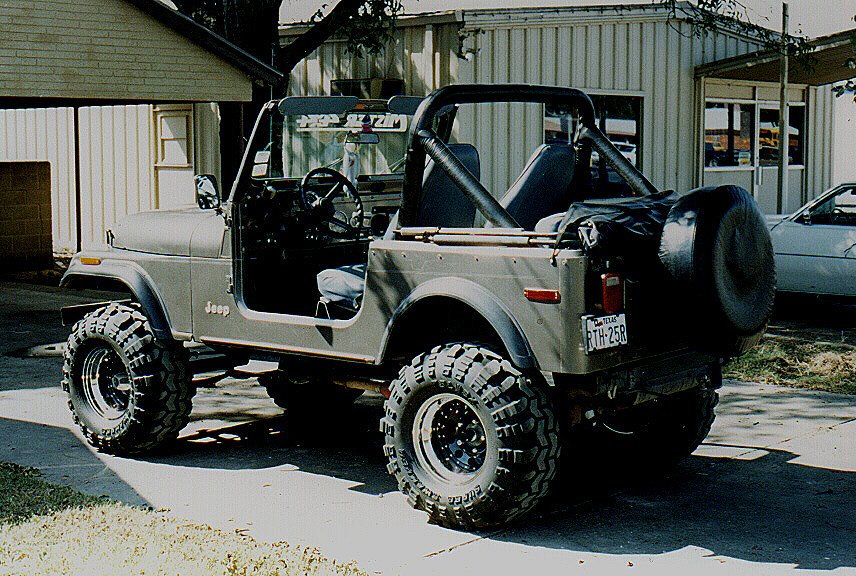 This shot is to prove to the people of San Angelo that my Jeep does make it out of the garage every now and then.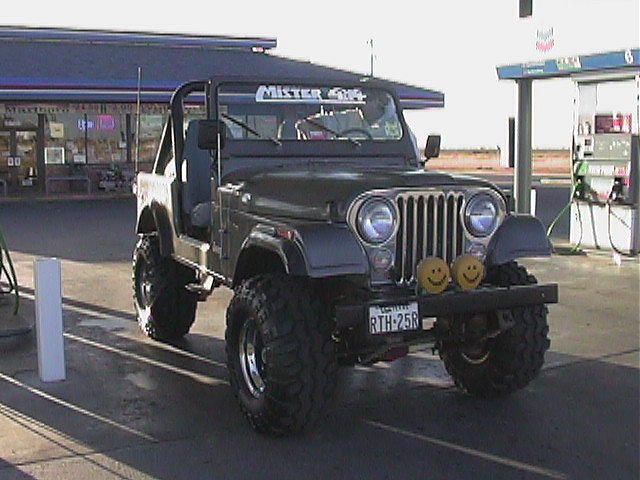 Here's a couple taken around May 2000 by my buddy Rob while we were out by the lake playing one day. I still haven't cleaned it - he'd be proud.





This one was toward the end of the day before we got too hot and decided to pack it in.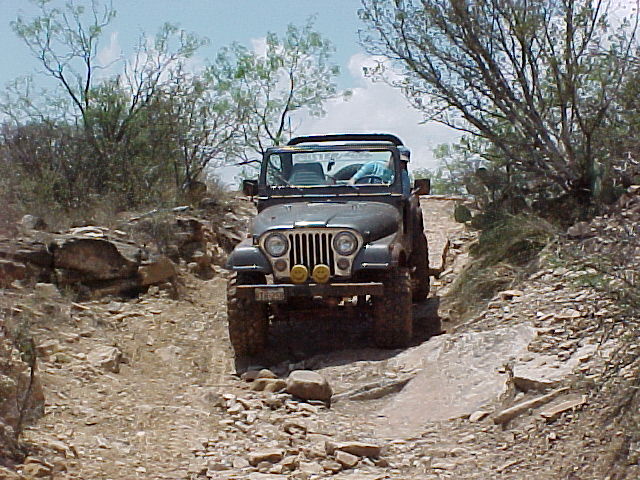 And here's a few of the Jeep in it's favorite place, other than the garage - the Auto Hobby Shop at Goodfellow Air Force Base, in San Angelo, Texas. And something compels me to mention what a helpful, friendly, and courteous staff the folks at the Auto Hobby Shop can be - but only if you're not me. (I get picked on a lot, but it's all in good fun)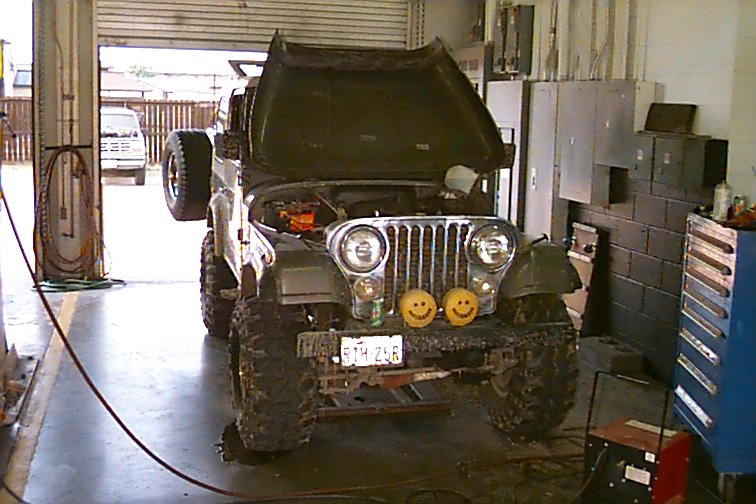 This one was taken on what I've affectionately deemed as "Jeep Day." There were Jeeps in every stall in the Hobby Shop that day except for a lone Volkswagen Beetle, which was OK since it was one of the old ones.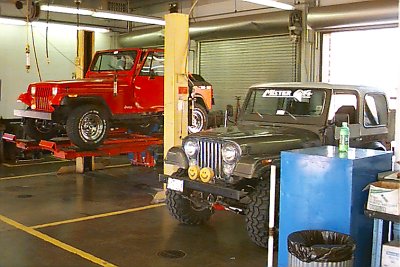 And here's a few of the Jeep and I in action at one of the local lakes from a few years ago, shortly after I got the transmission fixed.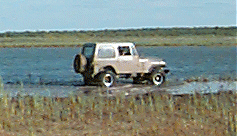 Here's the Jeep in the driveway after all that fun...what a mess, eh?