Dodge Ram Stuff
---
Bought: November 1999
Sold: December 2014

---


Engine: 5.2 Magnum V-8
Tranny: 4-sp OD Automatic w/ OD cut-off
T-Case: NV-301
Tires: P285/75R-16 Dunlop Rover ATs
Wheels: 16x9 American Racing 589
Lift: Stock Ride Height, Daystar 2.5" Leveling kit
Auto Locking Hubs
Factory Limited Slip Rear Differential

Special Features:
SLT Laramie Trim Package
Camel/Brown cloth/carpet interior
Power Locks
Power Mirrors
Power Windows
Power Steering
Factory AM/FM/Cassette
Sony 10-disc CD Changer
Infinity 6-speaker Premium Sound System
Anti-Theft Ignition Cut-Off System
K&N Filtercharger
Smittybilt Sure-Step Nerf Bars
AutoGard Vent Shades
Covercraft Tonneau Cover
Pilot Ion Projector Driving Lights
'99 Ram 40/20/40 'Quad-Cab' seats
Reflexxion steel Cowl-Induction hood
Flow-Pro Dual-Outlet muffler w/dual chrome 'Outback' tips

Future Plans:
Infinity RS-Kappa 6x9 3-way door speakers
Infinity RS-Kappa 5 1/4" 3-way rear speakers in custom enclosures
400-watt 4-Channel Coustic Amp w/crossover
2 8" Rockford Fosgate Punch subs in custom enclosure
Rhino Liner for the bed
Cobra 40-channel CB
Hyperchip
K&N FIPK Air Intake system
1" Throttle body spacer

Pipe Dream:
5" lift
4.88 gears
38" Super Swamper SSRs
15x10" Weld Dune 5 rims
5.7L Hemi crate motor (when the 5.2 finally dies)



1997 Dodge Ram 1500 4x4 Club Cab


---
What a crazy story this is. Well, it sounds crazy to me, anyway.

My wife and I go 'home' to Utah in '99 on vacation to visit friends and see what's become of Salt Lake City since the renovations began for the 2002 Winter Olympics. Whatta mess. Anyway, I hook up with my friend Rahn, and he just bought himself a 1998 Dodge Ram 1500 4x4 Quad-Cab. Very nice truck. He took me for a spin and we even went 'wheeling (of a sort) one night, which made me gain a whole new respect for the Ram. I've always been kind of lukewarm on the whole new style since it came out. But Rahn's truck really helped me out of that.

After the vacation, we decided that it's time for me to get a new truck (buh-bye Nissan) and to start looking around. Of course, there's not much selection of 4x4's in San Angelo, so I start looking for trucks listed online. My wife suggested I look on Autobytel.com. In the whole state of Texas, there were a grand total of ZERO 4x4's listed - this is online of course, I'm sure there are some 4x4's for sale in Texas somewhere.

I'm looking through the trucks they had to offer and this picture jumped off the screen at me.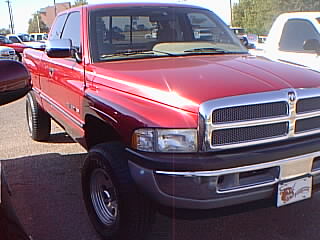 I also found it was listed under the 'Auction' page, and no one had bid on it. So we got the paperwork started and afer a week or so, we were approved and I put a bid on it. Of course, it's an auction, so I only bid the opening price - 'cuz I'm cheap. And nobody else bid on it for the remaining time it was listed online. After the auction closed, I contacted the seller and he quoted me the price of the truck. See, they put the opening bid in on the auction, but there's a 'Reserve' price that needs to be met before the seller is required to release the vehicle for sale - which is higher than the opening bid. I don't entirely agree with the way they do this... I mean, why start the bidding at a price you don't intend to sell it at? Oh well. I guess that's just the way things are done. At any rate, the price was still very reasonable, so we were in agreement and I got the paperwork going on this end. After a few days of Faxing, phone calls, and signing our lives away, we finally got the whole thing squared away on this end.

Now, the seller, Bob Turner Ford of Albuquerque, New Mexico, was absolutely wonderful during this whole transaction. After I contacted the Cyberstore Manager, Bob Fass, I received an E-mail back stating that he would like to help me any way he could and even offered to pay my airfare to Albuequerque and pick up the truck - which wound up being over $300.

So, the paperwork is done, the plane ticket's been purchased, and I fly to Albuquerque after work on the morning of Friday, November 5th...after a Mid-Shift no less. Thanks again for the ride to the airport, Garey. I arrive at the airport and Bob is there to pick me up in a brand new F-150 Extended cab - very nice truck. He's a Ford man and amusingly trying to get me to 'come over to the dark side' and give up my awesome Dodge Ram for a Ford! Can't see it happenin'. He was only doing what a good car salesman would do, so I blew him off, like anybody who's set on not getting a Ford would do. Nice try though, Bob.

Once we got, to the dealership - which is freakin' HUGE, by the way - he took me out to the truck. Oh my Gawd, was it awesome. Much better than I hoped. I walked around, crawled under it, lifted the hood, fired it up and took it for a test drive. Holy Cow! What an awesome ride!

So after the test drive, and almost getting ran off the road by the guy who was doing the financing - his name is Alex and he drives a white Explorer - watch out for him... ;) - I signed a few papers, and Bob took me to meet the Service Center Staff. I met a bunch of really cool people and even got a conplimentary oil change out of the deal - thanks anyway, but I don't think I'll be making the 440 mile trip just to get the oil changed.

About an hour-and-a-half after arriving there, I was set free with my new truck and hit the road. Totally painless. I wish all car sales could be this cool. Bob had even helped out with Tax, Title, and Licensing fees for Texas - even though his dealership is in New Mexico...can you beat that? These people were just too good to me.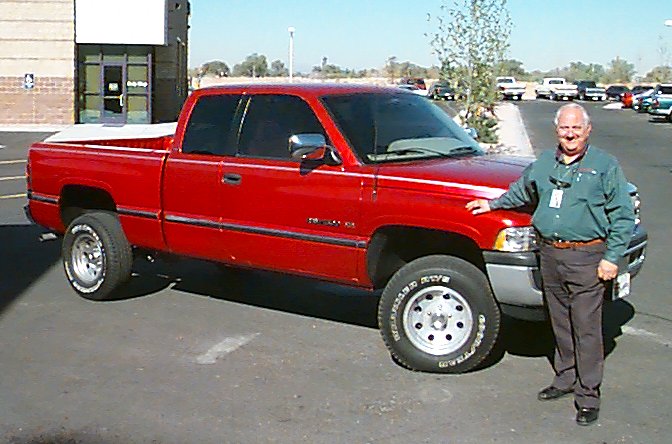 Here's a shot I took of the truck and Bob just before I left the dealership to head home. Bob was a nice guy and took care of me while I was there.

The rest of the trip was uneventful, and not a bad drive, either...just long. But the truck made things very comfortable and even though it was somewhere around 10 hours of driving, it wasn't nearly as bad of a drive as when I took the Nissan to San Antonio - only 3 or so hours away.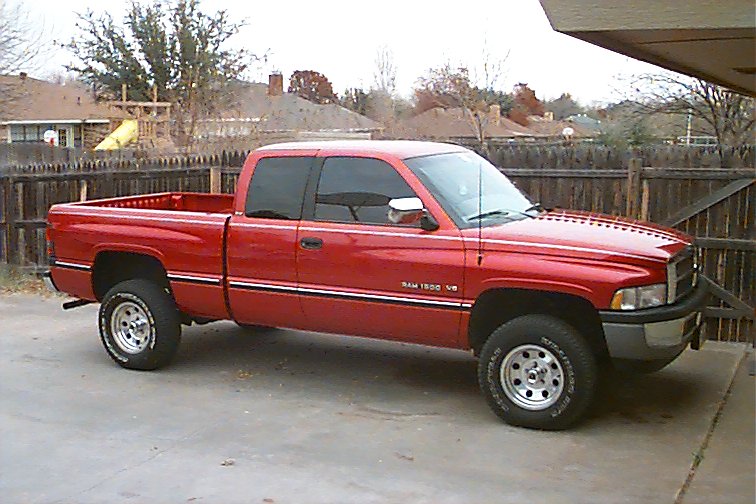 Here's one in the driveway after I got back...I had to back up all the way to the neighbor's fence just to get the sucker all the way in the frame.

And here's what it looks like now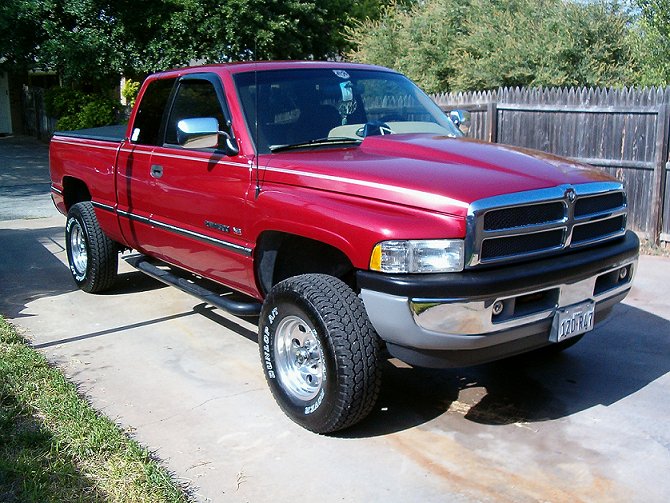 Since I've owned the Ram, I've done a few things for cosmetic and functional purposes. One of the first things I installed were some Smittybilt Nerf-bars. It makes getting in and out of the truck easier for my wife... plus it helps keep the door dings to a minimum as well. Then I went with some Pilot Ion Projector driving lights - very nice at night... they throw a lot of light. My pal calls them 'the Retina-Burners.' I also installed a 2.5" 'Leveling' kit, which consisted of coil spring spacers up front. Next came some Vent Shades - which make it nice to crack the windows and not get rain inside if a storm comes up - but they add to the already huge blind spot of the A-pillars... you can almost lose a car in there. And finally, I went with a Covercraft clamp-on frame tonneau cover for the bed - which help hide the fact that I actually use my truck to haul stuff, but it also helps the overall aerodynamics by removing the drag from the open bed.
Back in March 2002, we had a monster hail storm blow through - and the Ram took $5500 in damage. The paint was already fading thanks to crappy application at the factory. So I filed an insurance claim, which pretty much had the whole upper body skins replaced and repainted. Turns out that an aftermarket steel cowl-induction hood from Reflexxions was about $200 cheaper than a stock replacement hood - bonus!

Bottom line - check online before deciding on where you'll buy your next car - you may be surprised at just how much of a break you'll get. The deal I got worked out to be about $4000 less than retail price even on the used truck. And, they forgot to list a few things about the truck when they put it online, so that pushed my savings up even further. Awesome! I'm totally stoked about this whole thing. Oh well, enough on this - here's another picture.