The Basket-Case '78 K-5 Blazer
---
Bought: August 1994
Sold: April 1995
---
Chevy 350, 4-bolt main
Edelbrock Performer intake
Edelbrock Performer carburetor
Edelbrock chrome valve covers
Accel plugs & wires
Dual exhaust w/Cherry Bomb glass-packs
TH350 Automatic Transmission
B&M Trick Shift Transmission kit
NP203 Transfer Case
Dana 44 front axle w/open diff and 3.73 gears
Corporate 12 rear w/limited slip diff
33x12.50 Goodyear Wrangler ATs (Thanks Nissan)
15x10 American Racing chrome modular steel rims (Thanks again, Nissan)
"Rancho by Gabriel" shocks all around
Dick Cepek Bed-mount spare tire rack
Spiderco Bed Web
33x12.50 BFG AT (Thanks Andy)
Optimus AM/FM/Cassette deck (Hey, it works...)
Pioneer 100 watt X 2 Channel amp
Pro-Thunder 10" subs
Clarion 990 6x9s (in the doors)
Custom center console built by me
Cobra 40-channel/Weather CB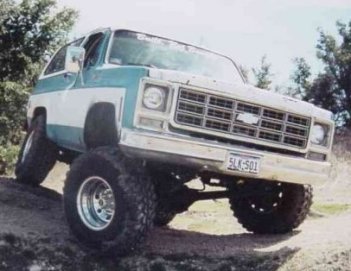 1978 K-5 Blazer
I bought this truck after giving up on trying to fix the First Nissan - sometime around August 1994. I saw it sitting in the lot of Walton Motors, in San Angelo one day driving to lunch with my pal Dave. We decided to stop in and check it out. Once we popped the hood and discovered the Edelbrock'd 350 and then fired it up - I was hooked. Never mind that it had a major lean thanks to the wrong left rear leaf spring... or that the brakes didn't work for crap... or that the entire front end of the driveline and air conditioning system were in the bed of the truck. I had to have it.

Of course, my wife was not happy in the least about this whole deal. She said the Blazer reminded her of her ex's old Dodge pick-up. Sorry - the Blazer was cool... and the Nissan wasn't running right anymore.

So, I pulled a couple things out of the Nissan (my monster Clarion 990 speakers (the same ones that I originally bought for the Mustang), the bed-mount spare tire rack, and a couple other things) and took the truck down to Walton motors for the trade. Since the rims on the Blazer were rusting and the tires were bald, I specified that I wanted to swap my rims & tires from the Nissan to the Blazer. They agreed, but when I dropped the Nissan off, the owner (Cecil Walton - who was kind of a jerk through the whole thing) gave me crap about not including the spare tire and some of the things I pulled off the truck. I basically reminded him that he was getting a $9,000 truck as trade-in on a $2000 basket-case. He left me alone after that. His mechanic told me that the brakes were shot and that they'd provide some replacement parts.

I took it to the Auto Hobby Shop (imagine that) and discovered that the left rear leaf spring was not a Blazer spring, but rather a C-1500 truck spring. Different animal altogether. I called Cecil and he agreed to replace the spring. Turns out I had to pick it up from 'Better than Walking,' a local wrecking yard. No worries - it's just truck spring. Swapped it out and things were good.

A few days later, Dave and I started working on the brakes, and pretty much replaced everything. The bill worked out to something like $150. I took the bill to Cecil, and he gave me crap about the cost. I reminded him of our agreement for him to provide brake parts. He mentioned that he was going to give me some decent used parts, rather than buy new parts. Whatta dick. I asked him if he was going to honor his agreement. He agreed to split the cost for the new stuff with me. I guess you really can't get blood from a turnip, but you can get a drunk, crusty old-fart to cough up something when you threaten to have his business black-listed by the local Air Force base. I never bothered him again for the rest of the stuff we 'agreed' on.

I had the carpet cleaned by Tuff Shine and installed some new seat covers, and the interior was pretty spiffy after that. When I bought it, someone had also messed up the front right fender and done some body work. The trim was messed up and the blue paint had over sprayed into the white just in front of the wheel opening. So I taped off the blue, sprayed some white Krylon, then nailed the molding back down with some sheet-rock screws - looked pretty much good as new. Just took some TLC and the truck was actually coming around to looking pretty decent.

I went to Radio Shack and found a nice Optimus AM/FM/Cassette deck for cheap and installed it. I had also removed the Pioneer amp and 10" subs from the Nissan and proceeded to figure out how I was going to install those so I could have a system finally. I enjoyed having the bed free of stuff (especially a speaker box) and decided to come up with something different for the subs. I came up with an idea for a center console built around a box that would house both 10" subs with ports for the bass to escape, built it out of 5/8" MDF plywood and covered it in Calypso Blue vinyl to match the dashboard and seats. The center console was huge, but it was a success and worked like a champ.

I later found a nice stock grill at the wrecking yard and installed it, since the Blazer originally came with an aftermarket grill that housed 4 rectangular lights - which were no longer there. It looked much better with the stock grill.

Around Christmas of that year, I took off with my pal Mike Schroeder and was delivering Christmas cards. As we entered the on-ramp of Loop 306 at Southwest Blvd, the truck let go a huge, loud BANG, but kept going. Wondering what it was, I decided to get off on Knickerbocker Rd to check it out. As soon as I began slowing down the tranny downshifted and a weird 'whizzing' noise came from the driveline. OK - that was just weird, and something was definitely broken. So I parked the Blazer for a couple days until I could take it out to the Hobby Shop to figure out what went wrong. I figured it was the transmission had let go, so I put it on a lift and proceeded to remove the rear driveshaft. Well, at that point we discovered that the rear axle was the issue. We pulled open the diff and discovered fried spider gears. Oh well - that axle was bent slightly anyway. I called up Better than Walking and they still had the Blazer frame that my leaf spring had come from and sold me the rear axle for $125. Swapped it out that weekend and it was all good again.

Trying to solve an oil pan leak, I took it in a few weeks later and pulled the pan. Got it all squared away and put back together, but the Blazer wouldn't start. The engine wouldn't catch and fire. After replacing the plug wires, plugs, and trying just about everything else, we pulled the distributor and found 4 teeth on the distributor gear were missing. Well - that would do it. So I tried to find anyone who would sell me a distributor gear - which was nobody. They wanted me to buy the whole distributor... and for only $250 or so a pop. Screw that... out of desperation, I called Walton Motors again and asked if they had an old GM distributor I could buy. They did, and I went down there and showed them the gear. They gave me the gear from an old Buick for free. I guess a guilty conscience finally came back to haunt them or something.

This pretty much took care of all the major driveline issues the Blazer had going on - it ran like a champ after that - despite the fact that my wife still didn't like the Blazer, I was loving it. I pretty much only had to repair the transfer case at this point to get it ready to go out 'wheelin' again.

In January '95, my wife had orders to go to Osan AFB, Korea. We went to visit her family for a month before she left and had a great time seeing everyone. While I was there, her older brother and I went to a hobby store looking for model kits and the owner was selling some KC Daylighters for $30. I bought them and was planning on installing them on the Blazer when I got back.

About a month after she left for Korea and I was back at work, I went to the Hobby Shop and noticed the Jeep in the #1 stall. When I asked Don about it, he told me it was for sale. When he told me what he wanted for it, I asked him to hold it for me for a couple days, and that I was very interested in buying it. An old paintball pal of mine had expressed some major interest in the Blazer awhile back and I went to find him. Ian loved the truck and was still interested in buying it. He gave me $2000 for it, with the promise that I would help him repair the rest of the issues it had. No problem - I was getting a Jeep and loved working on the Blazer anyway. The rest is history on the Jeep page.
The big, sad deal of this whole story is that in the short 8 months that I had the Blazer, I never took a single picture of it. So the pictures you see are ones that I found online of Blazers that look very much like the one I had.

After my pal Jim scored a major deal on his Jimmy, I realized how much I miss my old K5. But, since I have the Jeep and the Ram, I doubt I'll be looking at getting another one any time soon.

Here's another shot of a Blazer that's almost identical to mine, minus the roof rack. The wheels were different (the same ones from the Blue Nissan), but otherwise identical... it even had that crappy blue window tint. Man I miss that truck.